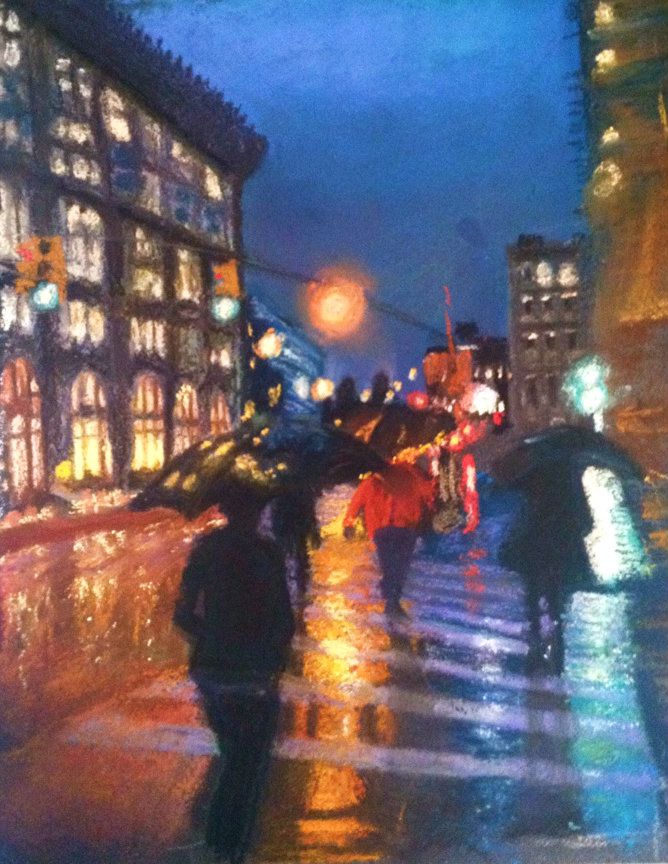 "Chelsea In the Rain"
9" x 12" pastel on sanded board
This is the first creation I have done in a while. It has been so busy that I have only occasionally been able to draw (usually a digital piece on my iPad, usually in the few hours before I nod off, which is much easier than pulling out drawing materials).
On a trip to New York City last October I had the luck of having my camera handy while a drizzly day ensued. The umbrellas I saw as a beautiful punctuation to the streets and braved getting my DSLR wet to get some photos. This is a pastel piece (still learning to use pastel) that took me about 3 different sessions. I am still thinking of some tweaks I'd like to do but don't want it to be otherwise overworked. I have pulled off all the labels on my pastels but there is a mix of brands in there.
This was also my first homemade pastelboard. I bought some leftover mat board that was uber cheap and used a mixture of sanded (liquid paint like stuff that has sand in it to create a textured surface) primer and a brown paint to make my own paper. Since pastel paper is several dollars per sheet this was a way to keep it less pricey.
I can't recall the exact street but I know we had walked a few blocks up and over from the Flatiron Origins building and were in the Chelsea District, hence the title.
The blur on the right side is still challenging me. In the original photo it is a partial building side and roof jutting, hence the odd angle.
Thank you for looking and I would love your comments. Too cartoony? Good contrast? I did enjoy the wet ground and all the colors.